Buy Samsung Galaxy A51 in Nairobi, Kenya
Samsung Galaxy A51 Price in Nairobi
Samsung Galaxy A51 specifications and price in Nairobi, Kenya
The Samsung Galaxy A51 phone Review
Design
158.5 x 73.6 x 7.9mm, 172g
Clad in plastic but with a distinctive look
Black, white, blue, and pink finishes
The Samsung Galaxy A51 offers some of the design traits of Samsung's higher-end phones. But there are a few giveaways that it is not part of the pricey Galaxy S series. Display borders are slim, and the front camera sits in one of Samsung's Infinity O' punch-holes. However, the back is plastic rather than glass and the front camera does not merge into the front glass anywhere near as well as most.
It does have a somewhat distinctive back, though. Like other recent A-series phones, the Samsung Galaxy A51 specs have a finish of intersecting lines, cutting shapes onto the back, each with a slightly different look. The bottom part has a pinstripe texture of thin lines, for example, sitting under the top plastic layer. This is a relatively subtle look, but when the Samsung Galaxy A51 catches the light you'll see shimmering rainbow tones that tend to pool into laser streaks across the curved edges.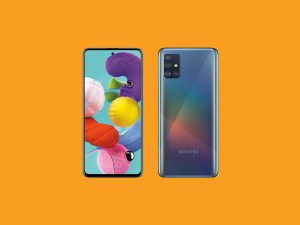 Camera
Quad-lens rear camera
48MP, 12MP, 5MP and 5MP sensors
Ultra-wide, depth and macro secondary cams
The Samsung Galaxy A51 has four rear cameras. But when you first boot up the camera you may be left wondering what half of them do. There's no zoom, which is the classic sign of a multi-camera setup where extra lenses are used to bulk up the numbers. We can't blame Samsung completely for this, as it is not easy to fit a good zoom camera into a reasonably priced phone.
You get a 48MP main camera, a 12MP ultra-wide one and a pair of 5MP cameras used for close-up macro images and for background-blurred depth shots. It's not hard to spot the filler: those two 5MP cameras. But this case is much less egregious than, for example, what Oppo has tried recently.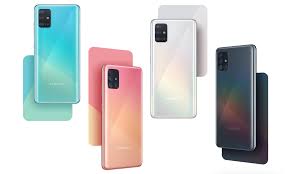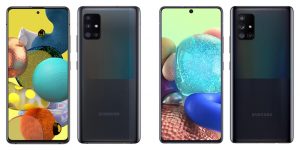 Let Your Device Do the Work
The Galaxy A51 and Galaxy A71 users are already able to do more of what they love with their smartphones, but this update brings even more Keyboard and Gallery functionalities to users that are designed to make their day-to-day interactions with their smartphones as convenient as possible.
When typing in the search bar in the app tray, accessible with just a simple swipe up on the home screen, users will now be presented with a range of predicted Apps, Settings, Quick Panel and Contacts search results before they even finish typing their query, and can then explore even more results by hitting the 'See more results' button. Enhanced keyboard functionalities also give users more freedom when typing; users can now translate text directly from the keyboard tray and easily undo and redo their most recent keyboard action with an intuitive swipe left or right with two fingers on the keyboard.
Software
Android 10
Samsung One UI
Some lag
The Samsung Galaxy A51 runs Android 10 with the Samsung One UI software on top. This means it looks very similar to a Galaxy S20. It is one of the most coherent and confident-looking custom interfaces around, although we strongly recommend increasing the number of app rows and columns used as standard. The Samsung A51 has a toy-like look when you first turn it on thanks to the wide icon spacing. To change this, long-press an empty part of a home screen and select 'Home Screen Settings'. You'll find the relevant controls there. We'd already made the change before taking the photos seen in this review.
| | | | | |
| --- | --- | --- | --- | --- |
| Price | $272.00 | | | |
| Sold By | The_Discount_Store | | | |
| Camera Description | Front, Rear | | | |
| Screen Size | 6.5 inches | | | |
| Item Dimensions | 0.28 x 2.87 x 6.22 inches | | | |
| Item Weight | 6.07 ounces | | | |
| Operating System | android | | | |
Samsung Galaxy A51 price Kenya & Specs