Are you looking to buy a HP Ink Tank 315 printer in Kenya?
Our HP Ink Tank 315 printer prices are the most affordable in Nairobi, Kenya. We are an authorized printer dealer shop where you can buy quality products with warranty. Also get the HP Ink Tank 315 printer at best prices at Dove Computers. Buy the HP Ink Tank 315 printer at an affordable price at Dove Computers, Kenya
About this item
Best-in-class print quality: Best overall print quality compared to tested in-class competing OEM ink tank systems ≤$299.99 USD from Epson. Test results should be similar for different model numbers using the same OEM ink formula. December 8, 2017 report by Keypoint Intelligence − Buyers Lab using OEM inks, default mode & draft mode for printing & copying on plain paper with analysis of images density and visual quality.
See keypointintelligence.com/hpsmarttank.
Black and composite color average per bottle (cyan/magenta/yellow) results based on HP methodology and continuous printing of ISO/IEC 24712 test pages. Not based on ISO/IEC 24711 test process. An additional black ink bottle is required to print 8,000 color test pages. Actual yield varies based on content of printed pages and other factors.
Some ink from included bottles is used to start up the printer. For more information about fill and yield, see hp.com/go/learnaboutsupplies.
When used in accordance with set up instructions.
Based on HP internal optical density testing comparing with HP DeskJet 5800 series with HP 51 & HP 52 inks.
Plain paper documents and photos stored under glass with OEM inks. Compared to tested in-class competing OEM ink tank systems from Epson, Canon and Brother. See June 8, 2017 Statement and Wilhelm Imaging Research report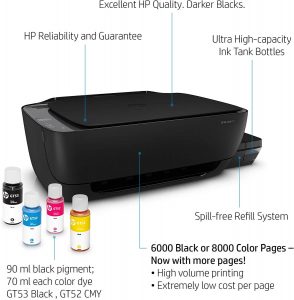 Benefits of HP Ink Tank 315
Get up to 8,000 color or 6,000 black pages at an extremely low cost-per page.
Print thousands of pages with high-capacity ink tank system.
Restore ink levels with resealable bottles and our spill-free refill system.
Easily refill your ink tank system with spill-free, resealable bottles
Print darker, crisper text, and get borderless, fade-resistant photos and documents that last up to 22 times longer.
Count on darker, crisper text, time after time.
HP INK TANK 315 specifications
Spill-free printing
The manufacturer designed this printer with a spill-free tank to eliminate your worries about making a mess. The ink tank system also allows you to monitor the ink levels and refill it whenever you want. Also, the transparent ink tanks enable you to print with confidence since you can plan your work. The printer comes with three functions; copy, print, and scan. You can now rely on the HP 315 for crisp, sharp text and vibrant graphics. The printer is also sturdy, and you can depend on it to deliver quality prints for a long time. The photos will also last up to 22 times longer compared to other printers. You can also print borderless, colorful, and fade-resistance photos that can remain the same for decades.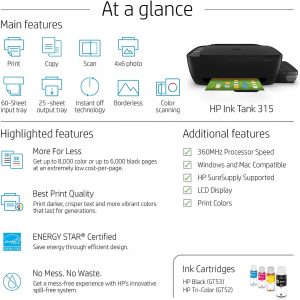 HP INK TANK 315 printer Features
Uses the HP Thermal Inkjet printing technology
1 High-Speed USB 2.0
Print Speed (Black): Up to 8 ppm (ISO), Up to 19 ppm (Draft)
Print Speed (Color): Up to 5 ppm (ISO), Up to 16 ppm (Draft)
Supported file output format include BMP, PNG, JPEG, TIFF, PDF
Contact Image Sensor (CIS) scan technology
Up to 4800 x 1200 dpi (Color), Up to 1200 x 1200 dpi (Black) Resolution
Free software installation on availability
1-year warranty from Nairobi Computer Shop
Buy from an authorized HP dealer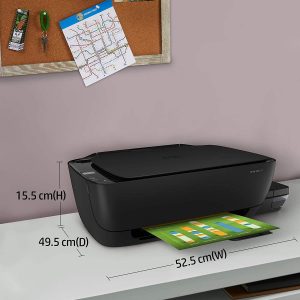 Conclusion
The HP ink tank 315 is ideal for anyone looking for colored printing without spending a lot of money. Whether you are at home or in the office, you can enjoy high page yields with the HP Ink Tank 315. Make sure you use the original HP ink to get and maintain quality. This device is also energy efficient since it only uses a maximum of 10 Watts when in full operation. With a dimension of 525 x 310 x 158 (W x D x H), you can enjoy the convenience of your space.
You can print thousands of pages at a low cost using the HP Ink tank Printer. This machine will print up to 8000 coloring pages and 6000 black pages at a very low rate per page. The HP printing machine guarantees the best quality prints with darker texts and fade-resistant photos that will still remain clear even after decades. If you are worried about making a mistake when refilling the ink, the HP printer allows you to control the ink levels with the HP unique tank to makes it easy for ink levels. If you are looking for a low-cost printing machine