Where to buy Kaspersky Internet Security 2018 3 User+ 1 Year License at an affordable price in Nairobi, Kenya?
Buy Kaspersky Internet Security 2018 3 User+ 1 Year License now online from Dove Computers, the leading Internet Security in Nairobi, Kenya.
Kaspersky Internet Security 2018 3 User+ 1 Year License.
Kaspersky Internet Security 2018 3 User+ 1 Year License protects your PC against viruses, spyware, and malware without slowing down your PC. Think of all the precious things on your PC. We can help you protect them against viruses, spyware and more.
Protects you from Viruses, Trojan Horses, Spyware and more.
The data that are on your PC does not have a price. With hundreds of new malicious programs, cybercriminals go online each day, you need a security solution that protects you against the latest threats. This award-winning security solution based on the cloud and protects your PC everything you store against the latest cyber threats.
Preserves the performance of your PC.
You need a security solution designed to work in the background to protect your PC without affecting performance. Our developers do their utmost to ensure optimum protection while preserving the performance of your PC. You will enjoy your computer safely.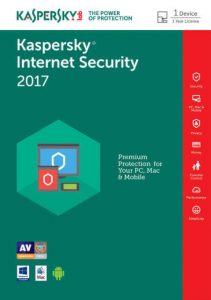 Simplifies Online Security Management.
No one wants to waste time to become familiar with a complex security system. If the security software you use is difficult to set up and run, your PC could be seriously endangered. Thanks to your My Kaspersky free, you can manage your security with ease, via the Internet. You can check the security status and license each device and address key security settings.
Communications
When communicating electronically, phishing is a constant threat. Sometimes it's obvious, contact out of the blue that seems to be from someone from your distant past with no greeting, just a suspicious link. Sometimes it seems to be a note from your bank, something so urgent your critical-thinking skills short-circuit and you click through to a fake site that steals your real banking credentials. Regardless of the phishing scheme, Kaspersky Internet Security and Kaspersky Total Security help stop malicious websites from capturing personal information, stealing your identity, and stealing your money. The advanced ant phishing protection works for PC, Mac, and Android.
Kids
Take every danger out there for adults and multiply it by kids' naïveté and disregard for consequences to get an idea of how much trouble kids can innocently find in the digital world. Because there are so many dangers for children, we include a powerful tool called Safe Kids with Kaspersky Internet Security 2018.  Safe Kids includes inappropriate content filtering for safe surfing, limiting of online activities, and even GPS tracking to help keep your kids safe.
Facebook 
Instagram 
Similar product