Looking for APC Back-UPS 1400VA? Buy now at an affordable price from Dove Computers Nairobi, Kenya.
Get the APC Back-UPS 1400VA and protect your valuable work from all going down the drain when power suddenly  cuts supply. The UPS also protects your electronics including computer systems, servers, network hardware etc from sudden surges in voltage. The APC 1400VA Back-UPS ensures continuous supply of electrical power until you'ved saved your work and is able to shut it down your system without losing any work done so far. The also features auto restart of loads after shutdown, a maintenance-free sealed Lead-Acid battery with suspended electrolyte which is also leakproof.
Here's a review video of the amazing APC Back-Up UPS 1.4KVA:
Using the APC Back-UPS 1400VA is easy with all alert systems integrated in the design. If for, example, it will produce an alarm when on battery , a different, distinctive low battery alarm  and a continuous alarm tone on overload.
The control panel also has an indicator LED status display for different statuses such as On Line, On Battery, Replace Battery and Overload. Moreover, the APC 1400VA also features an 8 hour(s) recharge time and battery lifetime of between 2-5 years depending on usage.
The UPS also has a Battery Volt-Amp-Hour Capacity of up to 168 and includes interface ports which include USB for easy communication and management of the APC 1400VA UPS.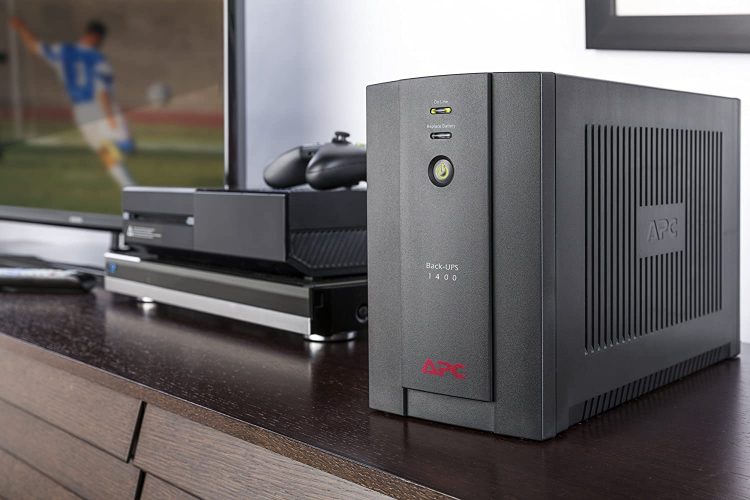 Output
Output Power Capacity: 1400 VA,
Max Configurable Power: 1400 VA,
Nominal Output Voltage: 230V,
Output Frequency (sync to mains): 50/60 Hz +/-1 Hz.
Topology: Line Interactive
The APC Back-UPS 1400VA produces a Waveform Type of Stepped approximation to a sine wave.
Output Connections: (2) IEC 320 C13 (Battery Backup) (4) Universal Receptacle (Battery Backup)
Input
Nominal Input Voltage: 230V
The APC Back-UPS 1400VA has an Input Frequency of 50/60 Hz +/- 3 Hz (auto sensing)
Input Connections: IEC-320 C14 NEMA 5-15P
The has a cord whoese length is about 1.22 meters
Input voltage range for main operations: 150 – 280V
Maximum Input Current: 6A
Input Breaker Capacity: 10 A.
Type of Input Protection Required: 3-pole breaker
Make your order today of the APC Back-UPS 1400VA