Wondering where to get computer cables on sale at great prices in Nairobi, Kenya?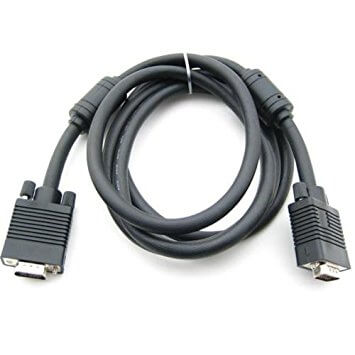 Are you stuck and not sure where to get computer cables on sale in Nairobi at best prices? Don't stress. Dove Computers is your solution for all cables you need such as VGA cables, HDMI cables, DVI cables, RCA cables etc in Kenya. Any piece of equipment related to a computer often requires a cable. Browse our extensive variety of cables, buy and get it delivered to your desired location.
As a reputable computer cables shop in Nairobi, we stock a wide variety of cables such as DVI, HDMI, VGA, RCA and more, Our cables are original and tested to ensure you don't get faulty cables that would otherwise fail you when you desperately need it to work.
We stock computer cables on sale from different manufacturers making sure that you are spoilt for choice when you need to buy computer cables online. Below are some of the cables we stock.
VGA CABLES
Key Features
By and large one of the oldest connection cables, VGA is a standard 15 pin cable.
It carries an analog signal from a VGA enabled device
Easily connect your computer to your projector or monitor.
DVI CABLE
Key Features
As one of the most widely used computer cables on sale, a DVI cable is the successor of the VGA cables that advanced and moved towards digital.
DVI-A transmits analog signals allowing it to be compatible with VGA
DVI-D can transmit digital signal
DVI-I transmit both analog and digital signals
HDMI CABLE
Key Features
HDMI is the global standard for connecting high-definition equipment.
Unlike VGA and DVI, HDMI transmits both video and audio signals together.
HDMI delivers both dazzling and unmatched ease of use.
The above computer cables on sale are available on our online computer cables shop as well physically present at our shop located at the address below. Call our office line on 0726032320 for direct orders.
Revlon Professional Plaza
Biashara Street /Tubman Road
1st Floor After Mezzanine
Suite 2E
Cables
Showing 1–24 of 58 results
Showing 1–24 of 58 results