Webcams
Showing 1–24 of 29 results
Showing 1–24 of 29 results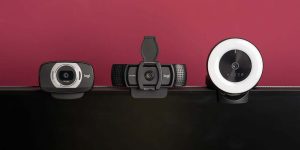 Enhance communication with the best webcams in the market all at the best price only at Dove Computers.
Wondering where to get quality affordable Webcams for pc or pc camera in Nairobi, or elsewhere in Kenya?
Look no further! At Dove Computers, we stock a wide range of accessories including webcam with competitive web camera prices. Order now online and have your product delivered within 24 hours.
Overview.
A webcam is a type of digital camera that is designed to capture video and transmit it in real-time over the internet or a network. Webcams are typically small and portable, and can be easily attached to a computer, laptop, or other device using a USB cable.
Webcams are commonly for a variety of purposes, including video conferencing, online video chats, live streaming, and remote learning. They are also used for security and surveillance, as well as for monitoring traffic and weather conditions.
Most webcams include a built-in microphone for capturing audio, and many also come with additional features such as autofocus, zoom, and image enhancement. Some webcams also have facial recognition technology that can automatically adjust the camera's settings based on the user's face.
Webcams are available in a range of resolutions, from standard definition (SD) to high definition (HD) and even ultra-high definition (UHD). The resolution of a webcam determines the quality of the video that it captures and transmits.
Shop for web cameras from top brands including Logitech camera, D-Link, Linksys, and more.
Logitech HD Pro, C920, Logitech C170 Webcam for sale, Logitech HD C270, Logitech HD Pro C525. Widescreen Video, Logitech HD Pro C920, Logitech c290 Widescreen Video Calling, and Recording, 1080p Camera, Desktop or Laptop Web camera price.
If you spend a lot of time doing Skype video chats, here's your chance to do them in full 1080p HD. As long as you have good lighting and a relatively new PC running Windows 7 or higher, your chat partners will see you in all your HD glory.
Logitech, Microsoft, and HP have been at the forefront of desktop webcam development over the past several years, with each company periodically leapfrogging the other two. The best web camera is the Logitech c290
Advantages of using webcams.
Video Conferencing: One of the biggest advantages of using a webcam is its ability to facilitate video conferencing. With a webcam, you can participate in video calls with friends, family, colleagues, and business associates from around the world, making it easy to stay connected.

Remote Work: Webcams are essential for remote work, as they allow you to connect with your colleagues and clients from anywhere. They make it possible to participate in virtual meetings, share presentations, and collaborate on projects in real-time.
Security: Webcams are also used for security purposes, as they can be installed to monitor your home or office space. They can be set up to record any suspicious activity, which can be used as evidence if needed.
Online Teaching: Webcams have become an integral part of online education. With a webcam, teachers can hold virtual classes, interact with students, and share learning materials in real-time.
Entertainment: Webcams can also be used for entertainment purposes, such as live streaming, video recording, and video chatting with friends and family. They can also be used for gaming, as many games require a webcam for features like facial recognition and motion tracking.
How to choose a webcam camera
Understand the system requirements. Not all webcams work with all computers or operating systems.
Decide whether to buy High-Def vs. Ultra HD. This will depend on what your videos or to be used for. In case you are looking for just video conferencing, then any high-definition webcam will be just fine.
Consider the nitty-gritty of pc cameras such as the ability to auto-focus, motion sensing, and any other special feature or effect it may be able to offer. Web camera price defer depending on the model. All types of webcam for sale are found at dove computers.
Contact us:
Revlon Plaza, Lower Ground Floor 2e, Biashara Street /Tubman Road
Email: [email protected]
Call us: 0792 793 349/0726 032320