Routers
Showing 1–24 of 29 results
Showing 1–24 of 29 results
Buy Wi-Fi Routers online for the best price only at Dove Computers
Recently we have experienced a tremendous increase in internet connectivity in Kenya more so in Nairobi. Routers became a major demand at Dove Computers we offer you quality routers at affordable prices.
A router is a device that connects multiple devices to a computer network and allows them to communicate with each other and access the internet. It acts as a central hub for managing and directing network traffic between devices, enabling them to share files, printers, and other resources.
Routers typically have multiple ports that allow for wired connections to devices via Ethernet cables, as well as the ability to connect to wireless devices via Wi-Fi. They also have an IP address, which is used to identify and communicate with other devices on the network.
At Dove computers, we are blessed to have invested enough in all types of Networking equipment and their pricing is as attractive and competitive as their demand. some of the routers on offer are; Huawei Wi-Fi router price in Kenya, 4G router price in Kenya. Also, we have Wi-Fi mini router price, wifi mini router sim card enabled. Just to add Safaricom router price in Kenya and Telkom router price in Kenya. Also, desktop/rackmount switch, and routers.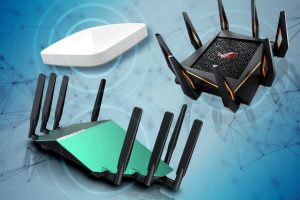 Importance of routers 
1. Increased speed
Speeds vary among single, dual, and tri-band WiFi routers. Your router's efficiency depends on the number of bands it has. The speed of transferring data is measured in megabits per second (Mbps). For example, a single-band optimal speed is up to 750 Mbps. A dual-band WiFi router clocks up to 1625 Mbps, and a tri-band router provides the fastest speeds with up to 2166 Mbps on each band. The best local router is the TP-link router and the Huawei wifi mini router price varies depending on the model.
2. Increased Range/Coverage
Traditional routers that deploy single-user technology connect WiFi to one device at a time, which impacts the overall speed and reliability. Max-stream routers, which use multi-user technology, delivers WiFi to multiple devices all at once and at the same speed. the best networking equipment is the Huawei WIFI ranger extender.
3. Better Control
Ditching your ISP router and installing a whole-home mesh WIFI system gives you more control and customization. Many people may experience inadequate WiFi areas throughout their home when they're stuck with their ISP-provided router. They can opt to use a portable WIFI mini router sim card, this helps you have fast internet anywhere you go.
4. Enhanced Firmware
Firmware updates to a WiFi router often improve functionality and fix bugs. Does your current ISP-provided router have that capability? What happens when there is a bug in the system? Are you dependent on having a tech come to your home to fix it?
Upgrading your WiFi router to a Linksys WiFi router can keep your firmware and device updated automatically when fixes need to happen.
5. Improved Guest Network Functionality
Whether you're a small business with WiFi or using WiFi at home, you may want to offer WiFi to your guests. However, you want to make sure it's secure and guests don't have access to sensitive information on your network. The TP-link WIFI router and mini router provide a secure account where you ensure your network is safe.
TP-link WIFI router and Huawei WIFI mini router prices in Kenya vary depending on the model. Dove computers offer the best prices for routers with prices from Ksh. 2,000
Advantages of purchasing a router
Wireless connectivity: One of the main advantages of a Wi-Fi router is that it provides wireless connectivity to devices. This allows you to connect laptops, smartphones, tablets, and other devices to the internet without needing to use cables, making it more convenient to move around and use your devices anywhere within the range of the Wi-Fi signal.
Multiple device support: A Wi-Fi router allows multiple devices to connect to the internet simultaneously, making it easy to share the internet connection with other people in your home or office.
Increased mobility: With a Wi-Fi router, you can connect to the internet from anywhere within the range of the signal. This means you can work or play from different rooms, or even outside, without being tethered to a specific location.
Cost-effective: Wi-Fi routers are relatively inexpensive and can save you money on data charges by allowing you to connect to the internet without relying on mobile data plans.
Easy setup: Wi-Fi routers are easy to set up and configure, even for non-technical users. Most routers come with a user-friendly interface that allows you to configure settings and manage your network with ease.
Improved security: Wi-Fi routers offer a range of security features, including password protection, encryption, and firewall settings, that help to keep your network and devices safe from potential cyber threats.
Contact us:
Revlon Plaza, lower ground floor Suite 2e, Biashara Street /Tubman Road
Email: [email protected]
Call us: 0792 793 349/0726 032320