Projectors

Projectors have proven time and again to be one of last century's best invention. Projectors have evolved from the big mechanical  Magic Lantern to  pocket sized electronic  projectors for portability and efficiency. Thanks to advanced projectors, you have had multiple movie dates at the cinema.
Development of better technologies for projector screens has improved the projector video quality. Have you ever struggled to stay awake in those long boring presentations? well it is most likely the presentation had no video demonstration. Projectors have been keeping people awake in meetings since forever.

What is a projector?

You have been to meetings that had presentations displayed on white screens, walls etc. Projectors are responsible for the reproduction of the images, charts, videos and diagrams generated from the computer to the projector screens, walls or plain color sheet of cloth. Projectors are also used in movie theaters  to display movies. With that background then, a projector is an output device that projects or reproduces images from a computer or any other source to walls, projector screens or other surfaces.

Types of Projectors

Projectors come in different types mainly categorized by the type of technology they use, their use and/or the specifications that they feature. Projectors are thus grouped like below:

Pocket Projectors
Multimedia Projectors
Short Throw Projectors
Home Theater Projectors

1.Pocket Projectors

As the name suggests, pocket projectors are small pocket size projectors. Pocket projectors come in handy in for  quick impromptu presentations as they are highly portable. These projectors range between 20 to 1500 lumens as compared  to standard mid level projectors that range from 2000 lumens t0 3800 lumens. The pocket projectors can only use a bulb with few lumens because of the amount of heat released with a bigger lumen output. Pocket projectors

High angle view of relaxed African American family watching a movie in the living room.

can only be adjusted manually to achieve optical focus and image size. Smaller versions of pocket projectors can be mounted on smartphones and used to project small format videos such as bedtime stories.

2.  Short Throw Projectors

'Throw' is the distance between the projector and the image produced by the projector on a screen. Simply put it is how far the image is thrown.  Short throw projectors are most ideal for class room and lecture hall presentations. These projectors have a throw ratio that is below 1:1 most short throw projectors have a 0.5:1 throw ratio. Small throw projectors pair well with small whiteboard screens and most times will not work well if placed outside of their throw ratio. By doing that you are throwing away the image quality. For consistent image quality short throw projectors are fixed on ceilings or walls.

3. Home Theater Projectors

Home theater projectors bring that cinematic experience to your house. These projectors come with a set of specs that make them ideal for displaying high quality images.  With home theater projectors you will experience bright images and thinner projector screens than any TV screens or computer monitors for nearly half the price. With an efficient cooling system, the projectors are greatly reliable. The screens feature  different resolutions that are usually fixed i.e. can not be adjusted for different image qualities;

Types of Projector Resolutions

XGA – 1024 x  768 pixels
WXGA- 1280 x 800 pixels
HD – 1920 x 1080 pixels
4K – 4096 x 2160 pixels

The downside of home theater projectors is that they are bulky hence can not be mounted in an upside down position on the ceiling.

4. Multimedia Projectors

Multimedia projectors are the Jack of all trades of projectors. Multimedia projectors can be used for movie watching, gaming, and class presentations. Multimedia projectors can be paired up with audio speakers outputs to stream videos.  Advanced multimedia projectors feature storage capabilities to aid with presentations without the use of a computer. They come with remote controls and pair easily with presenters for easy conference hall presentation. The following are the types of  multimedia projectors.

Types of Multimedia Projectors

1. Fixed Multimedia Projectors

Fixed multimedia projectors are fixed in auditoriums, conference halls and town halls. These projectors are not that portable as compared to the ultralight multimedia projectors. They pack the best specs in multimedia projectors hence give the best quality images.

2. Ultralight Multimedia Projectors

Ultralight  multimedia projectors are designed for presentations on the go. These projectors mostly weigh below 1 kg and are easy to set up hence convenient for impromptu presentations.

3.Conference Hall Projectors

These are used for presentations in conference rooms and halls as they have bright images. Conference hall projectors  majorly feature VGA, HDMI, Display Port and DVI inputs.
Creative Uses Of Projectors

The projectors have also left the boardrooms and cinema halls  and found their way into big screen gaming, movie watching at home, art projection in museums, projecting decorations in the house and bedtime storytelling

Projector for Gaming

Having a  screen the size of the side walls of your room gives you an ultra realistic gaming experience. The adrenaline rush will never feel the same again. With a projector screen you will most definitely stay ahead of the game(pun intended).

2. Movie Watching At Home

Nothing beats experiencing your favorite movie in the cinema except experiencing the movie in the comfort of your living room but with the same cinematic effects. Paired with the right speakers, projectors bring the cinematic experience to your living room minus overpriced snacks for you and your group of friends and family. Outdoor projectors give you the backyard movie experience on a wider screen but on a slim budget.

Check out the best speakers and sound bars to pair with your projectors here

3. Art Projection in Museums

It is ironic to find modern tech in museums right? Anyway, the most advanced projectors are found in the museum. Projectors are now being used to give a stunningly immersive experience to visitors at the museum. The use of virtual content from projectors is giving the ancient art pieces a new life and museum goers a great experience.

4.  Projecting Decorations

The plain ceiling and walls in your house can be a  work of art, all you need is a projector to project your  decorations and voila! you are an interior designer. You can pull off any desired pattern with a mid-level projector. The projectors will also enable you to change between different decoration patterns. Also, you can decorate the exterior walls of your house for themed festivals by projecting your most creative and stylish patterns and stand out in your estate. Christmas will not feel the same anymore with your house all lit up.

5. Bedtime Storytelling

Most of us never experienced this but imagine a bed time story with visuals to accompany it. You and your loved  ones will verily enjoy the bedtime story times. Projectors for this purposes are mainly handheld projectors that can be mounted onto your smartphone hence you don't need much time to set up; the kids will not fall asleep as you set up.

Best Projectors to Buy in Kenya

The following are  6 best projectors to buy in Kenya

1. Benq MS527 SVGA Business Projector 


Specs

Projection System: DLP Technology
Lumens: 3300 ANSI Lumens
Native Resolution: SVGA(800 x 600)
Video Resolution: 640 x 480(VGA) 1920 x 1200(WVGA)
Aspect Ratio: 4:3
Lamp Service Life: 4500 hours
Bulb Power: 190W
Input/Output: S-video,HDMI,R232, D-sub in, D-sub out
Speaker: 2W

Buy Benq MS527 SVGA Business Projector here

2.Epson EB-X06 3600 Lumens Projector

Specs

Projection System: 3LCD Technology
Lumens: 3600 lumens
Native Resolution: (1024 x  768)XGA
 Video Resolution:1024 x 768
Aspect Ratio: 4:3
Lamp Service Life: 6000 hours(normal), 12000( eco mode)
Bulb Power: 327W
Input/Output: 1x HDMI + 1x VGA + Composite
Speaker: 2W
Buy Epson EB-X06 3600 Lumens Projector here
         3. Epson EB-X51 XGA 3800 Lumens 3LCD Projector

Specs
Project System: 3LCD Technology
Lumens: 3800 Lumens
Native Resolution: 1024 x 768 (XGA)
Video Resolutions:1024 x 768
Aspect Ratio: 4:3
Lamp Service Life: 10,000 hours in ECO mode
Bulb Power: 327 Watts
 Input/Output: USB 2.0-A, USB 2.0, VGA in, HDMI in, Composite in, Cinch audio out, Wireless LAN IEEE 802.11b/g/n (optional)
Speaker: 2 Watts
Buy Epson EB-X51 XGA 3800 Lumens 3LCD Projector here
4.Epson EB-X49 XGA 3600 Lumens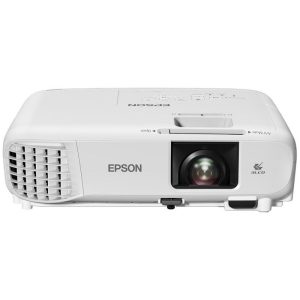 Specs
Project System: 3LCD Technology
Lumens: 3600 Lumens
Native Resolution: 1024 x 768(XGA)
Video Resolution: 1024 X 768
Aspect Ratio: 4:3
Lamp Service Life: 12,000 hours on ECO mode
Bulb Power: 210 w
Input/Output: USB 2.0 Type B, RS-232C, Wired Network, Wireless LAN a/n (5GHz) (optional), VGA in (2x), VGA out, HDMI in, Composite in, Stereo mini jack audio out, Stereo mini jack audio in (2x), Cinch audio in, USB 2.0 Type A
Speaker: 5W
Buy
Epson EB-X49 XGA 3600 Lumens  here 
5. Epson EB-FH06 3500 Lumens Projector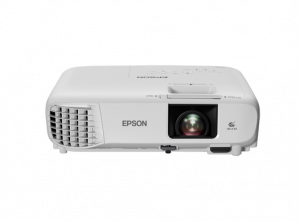 Specs
Project System: 3LCD Technology
Lumens: 3500 Lumens
 Resolution: 1080p
High Definition: HD
Aspect Ratio: 16:9
Lamp Service Life: 12000 hours on Eco mode
Bulb Power:210W
Input/Output: USB 2.0-A, USB 2.0, Wireless LAN IEEE 802.11b/g/n (optional), VGA in, HDMI in (2x), Composite in
Speaker: 2 Watts
Buy Epson EB-FH06 3500 Lumens Projector here
6. Epson EB-L200F Laser 4500 Lumens Projector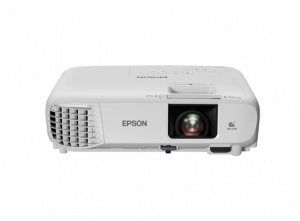 Specs
Project System: 3LCD Technology
Lumens: 4500 Lumens
Resolution: 1080p
High Definition: Full HD
 Aspect Ratio:16:9
Lamp Service Life: 20000 hours(normal) 30000 hours( Eco Mode)
Input/Output: USB 2.0-A, USB 2.0, RS-232C, Ethernet interface (100 Base-TX / 10 Base-T), Wi-Fi Direct, VGA in (2x), VGA out, Composite in, Miracast, Jack plug out, Jack plug in (2x), Cinch audio out, Microphone input, HDMI (HDCP 2.2) (2x), Wireless LAN IEEE 802.11a/b/g/n/ac
Speaker: 16 Watts
Buy Epson EB-L200F Laser 4500 Lumens Projector here